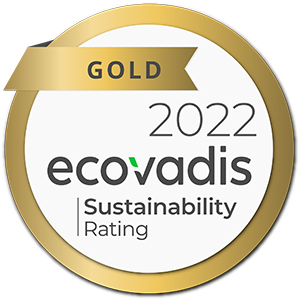 Hayashibara Co., Ltd. has been awarded a "Gold" rating in a sustainability assessment by EcoVadis, (headquartered in France), one of the world's most trusted providers of business sustainability ratings for global supply chains. The "Gold" rating is awarded to companies that score in the top 5% of all eligible companies*.
EcoVadis assesses suppliers operating in 160+ countries across 200+ industries, and assessment results are tested on over 90,000 companies.
EcoVadis conducts objective examinations and assessment of companies' sustainability through independent reviews and analysis, and scores the performance on company's policies, actions and results, in four sustainability themes: Environment, Labor and Human Rights, Ethics, and Sustainable Procurement.
In this year's survey, Hayashibara achieved high scores in Environment and Labor & Human Rights for the second consecutive year, while significantly improved its score in Sustainable Procurement through the progress of settling the procurement policies for raw materials and assessment activities on environment and human rights. These factors contributed to upgrade from the previous Silver to Gold rating.
Hayashibara is committed to the wider aim of contributing to the SDGs (Sustainable Development Goals) to realize a sustainable society through its business activities. Encouraged by this Gold rating, Hayashibara will continue to promote measures to resolve social issues, improve its corporate value and continue to be sought after by our stakeholders.
*Evaluation criteria: Platinum (within the top 1%), Gold (within the top 5%), Silver (within the top 25%), and Bronze (within the top 50%).