Oxetane derivatives produced from 3-ethyl-3-hydroxymethyl-oxetane (EHO) have ability of ring opening polymerization and used as resin materials for various applications.
Applications
EHO-series products are used for polyurethanes, coatings, adhesives, as a photoresist and sealer, as well as an underfill material, as an alternative to epoxy resin for electronic materials
Additional Information
BP (4,4'-Bis[(3-ethyl-3-oxetanyl)methoxymethyl]biphenyl)

Rigid biphenyl structure provides beneficial properties:
hardness
heat resistance
chemical resistance
low water absorbency for coatings
IPA  (Bis[(3-ethyl-3-oxetanyl)methyl]isophtalate)

Used in coatings or seal formulation in a liquid form due to its good compatibility with other curing materials.
MA (3-ethyl-3-oxetanyl)methoxymethylmetacrylate)

The methacrylate moiety is curable by free radical polymerization techniques that enable co-polymerization with various unsaturated compounds. The oxetane ring is not affected by radical polymerization.
HB (3-ethyl-3-(4-hydroxybuthyloxymethyl)oxetane)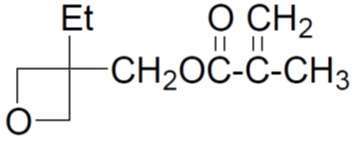 Used as diluent for solid and viscous materials thanks to its hydrophobic properties, low viscosity and high miscibility with various chemicals.
Product Varieties
We offer four grades of EHO derivatives:
Materials for UV and EB Curing
Vadym Kharchenko
Unit Manager